Premier Chiropractic won Best Chiropractor in Spring Hill and Thompson's Station 2020
Meet the Owners and Founders – Drs. Montelione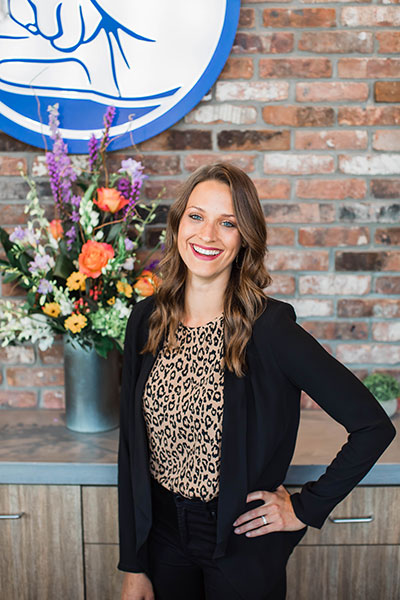 Dr. Ericka Montelione
Dr. Ericka Montelione always knew that her passion was to serve others. Throughout her childhood she always participated in community church events, and found a passion for helping people. She battled over the decision of what she wanted to do for a profession for some time but after meeting her husband in undergraduate school she realized that chiropractic was a way to help people of all ages using her hands, and avoiding the usage of medication and surgery. This was an amazing concept!
When she was a child she was very sick with allergies and asthma. Medication and injections were always the treatment administered for 12+ years, but health was never achieved. After beginning care in Chiropractic College the allergies and asthma melted away. For that case illness is a rarity. Because of her own experience with chiropractic and a passion for children she is in the process of receiving her ICPA (International Chiropractic Pediatric Association) CACCP pediatric certification, a 180 hour course tied in with research and a final examination. She also recently attended a mission's trip with Dr. Mike to the Dominican Republic through Chiromission to give chiropractic care to those less fortunate. This experience amped her passion for the greatness of chiropractic and the desire to serve people holistically and naturally even more!
Dr. Ericka grew up in a small town in northeastern Pennsylvania; Montrose. She was an only child and participated in cheerleading and choir throughout school. After she met and married Mike in undergraduate she attended the New York Chiropractic College with him in the finger lakes New York region. She is now serving her community in chiropractic and wellness. She frequently does health talks in the community and continues to work on her pediatric certification. In her spare time you will find her working out, running, crafting, and hiking with Dr. Mike and her three best buddies Daisy, Tiger Lily, and Scooby.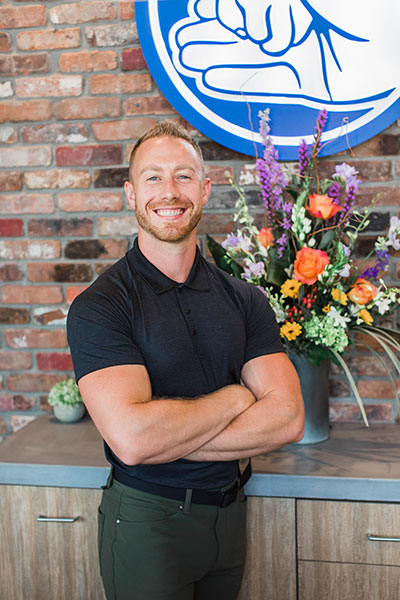 Dr. Mike Montelione
Dr. Michael Montelione will always say, "I didn't choose chiropractic, chiropractic chose me". Whenever anyone would ask Mike as a child what he wanted to be when he grew up he would always reply, "Chiropractor". It was always an easy question to answer! Dr. Mike was immersed in chiropractic from birth as his uncle (a fellow chiropractor) would adjust him on a regular basis to make sure his nervous system was working at its greatest potential. Still to this day Dr. Mike makes sure he gets his spine and nervous system checked for subluxations every week.
Dr. Mike grew up in the small town of Greene New York and is one of five siblings. He attended prerequisite courses in Binghamton, NY where he met his wonderful wife and best friend Dr. Ericka. Finally after years of anticipation he began his education with his new wife at New York Chiropractic College in the finger lakes region of upstate New York. When Dr. Mike is not serving his community with chiropractic care he can be found working out, reading, hunting, or hiking with his wife and three best buddies Daisy, Tiger Lily, and Scooby.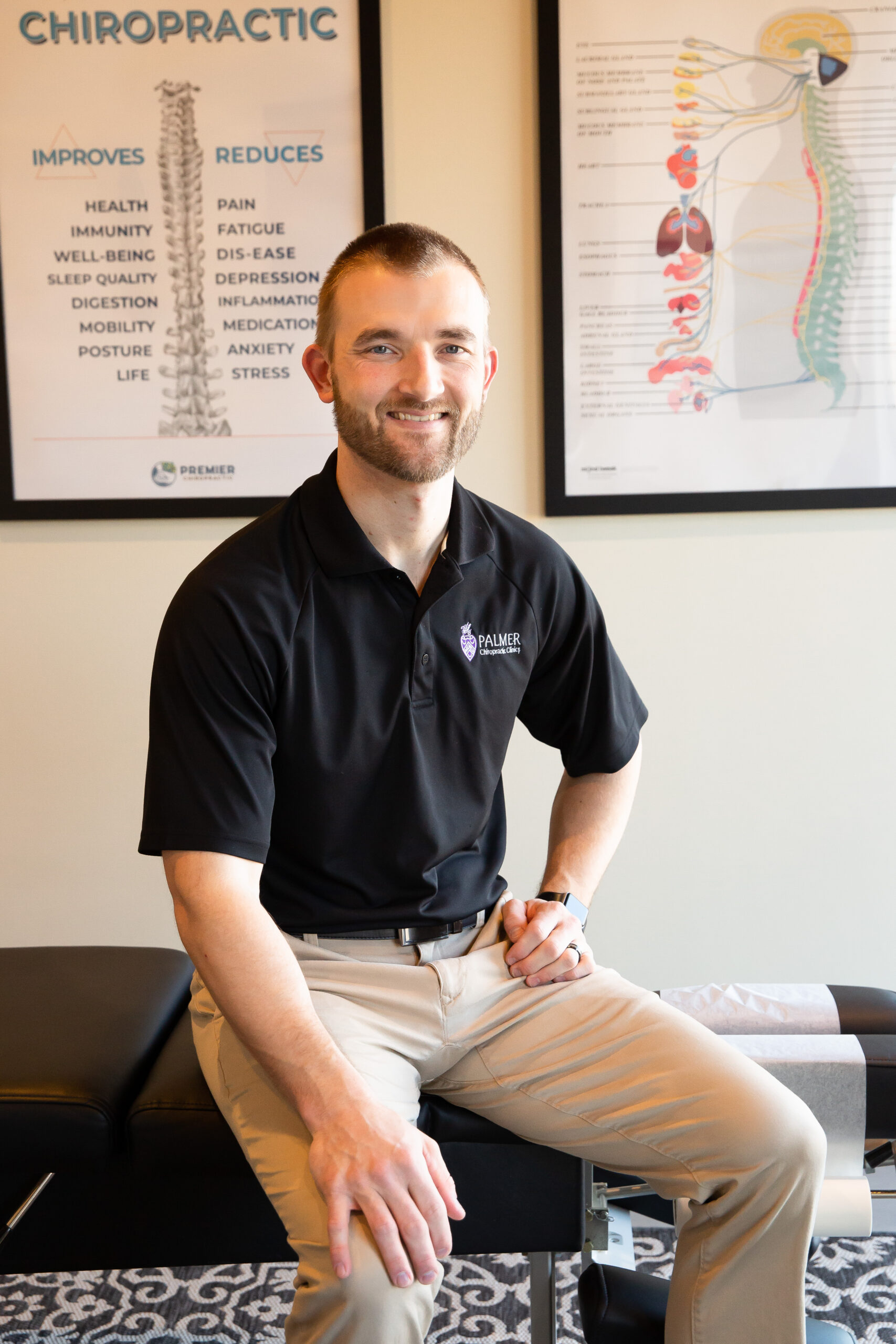 Dr. Kyle Janssen
I, Kyle Janssen D.C., started at Premier Chiropractic on December 27th, 2021.  I am an associate chiropractor and help in all tasks that are doctor related or odds and ends that just need done.  I love the pace of the office and being able to help people back to health.  Healing starts on the inside and goes out, so helping remove nerve interference aids people back to a higher functioning lifestyle regardless of age. 
Health is obviously important to me so I make time to workout both lifting weights and running.  I am an avid outdoorsman and love to do anything that involves being outside, from four-wheeling to sports to hunting and fishing.  My beautiful wife's name is Aubrey.  She is a hair stylist and lash artist.  We like being outdoors together hiking, taking brewery tours, and playing with our fur babies.  We have a year and a half old labradoodle named Grandpa and an 8 month old cat named Turkey Sausage aka Turk.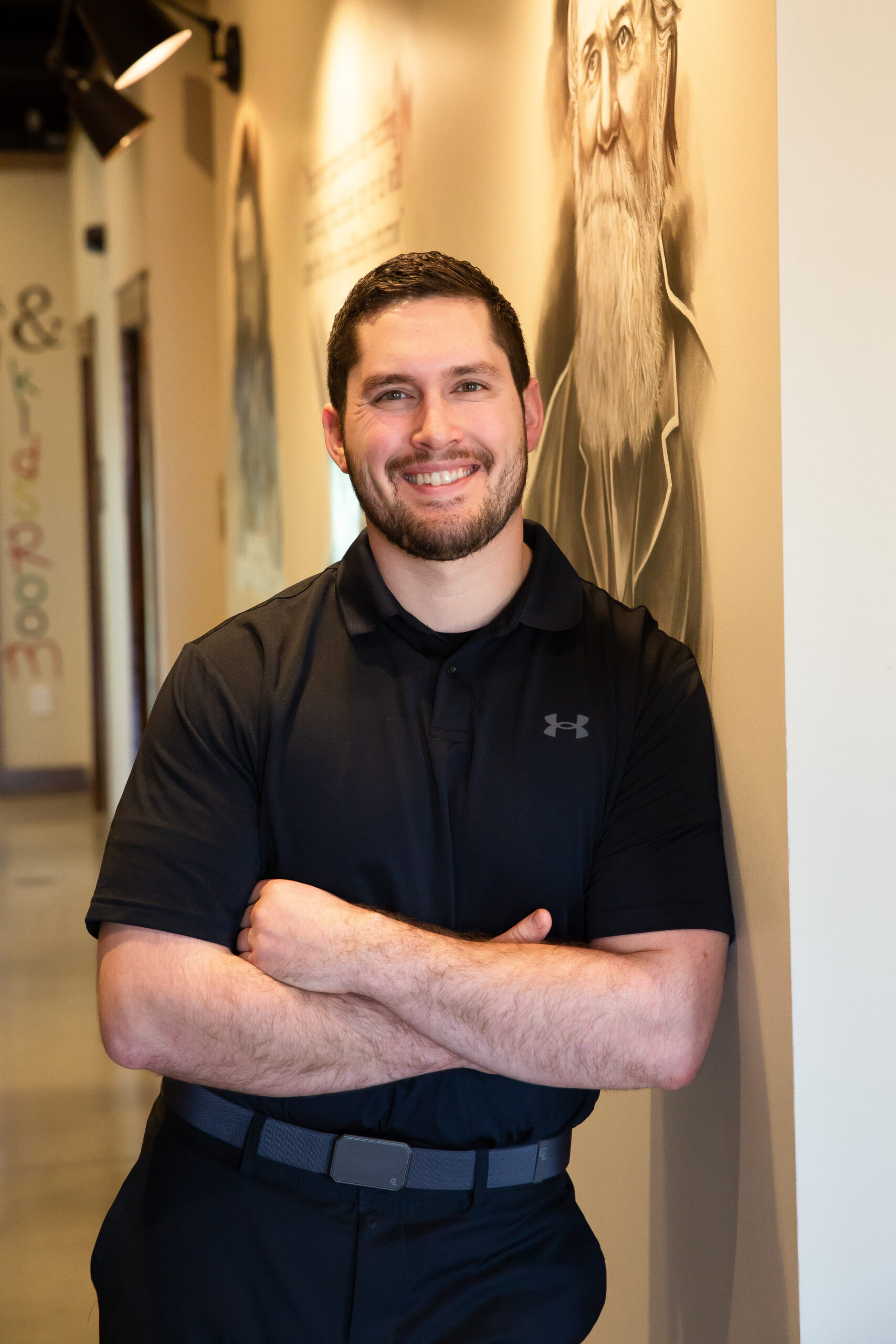 Dr. Michael Waido
Dr. Waido is a graduate of North Central College in Naperville Illinois and completed his doctorate at Palmer College of Chiropractic in Davenport, Iowa. Dr. Waido embarked on his chiropractic career because he wanted to be able to help patients achieve their overall health goals, and live their lives unrestricted by pain and improper function while promoting the benefits of a free healthy nervous system.
During his time at Palmer, Dr. Waido also sought out additional training in treating extremities with manipulations and functional movements. He completed advanced training in the Sports Rehabilitation Clinic at Palmer, where he was able to learn a variety of soft tissue and functional ability techniques that influence his treatments across his patients. After graduating from Palmer, Dr. Waido worked at a clinic in Illinois where he was part of a multidisciplinary team that focused on conservative healthcare to improve the lives of their patients.
I joined the Premier team in December of 2021 and have the privilege of helping our practice members meet their health goals as an associate chiropractor. Throughout my time here, I have enjoyed getting to know and serving our incredible practice members in the community with the benefits of chiropractic care.
While he isn't treating patients, Dr. Waido enjoys hiking and traveling to new areas. He is an avid Cubs and Bears fan, and enjoys spending free time with his friends, family and chocolate lab named Mable.
Management Team – The Schoenherzs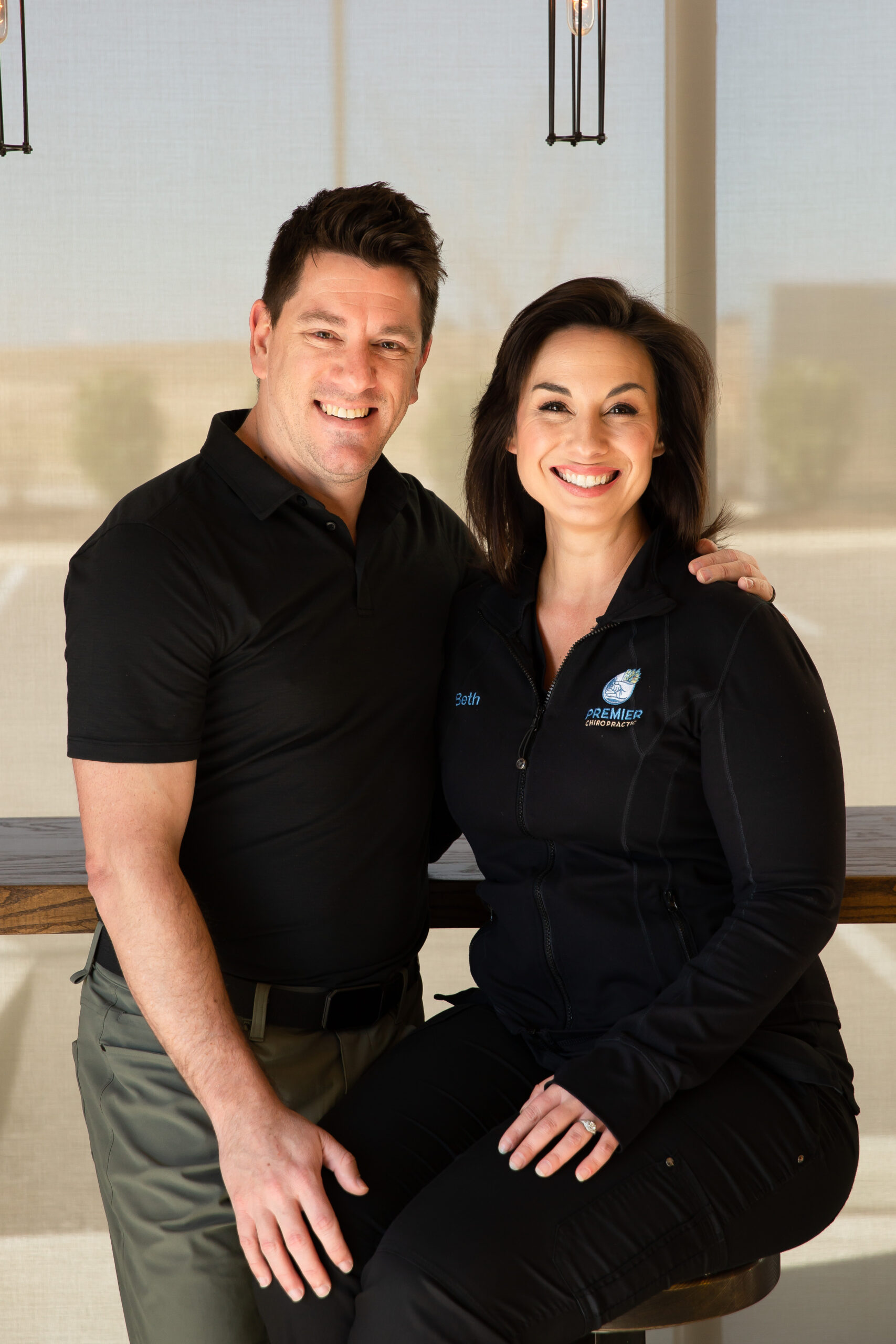 Beth Schoenherz
Office Manager
A  native of San Diego, CA Beth spent the first 15 years of her professional career as a singer and actress.  Her years onstage, especially her time with the Disney company truly instilled a desire to serve and perform with excellence in all areas.  This has translated into her work in the field of Chiropractic.  As the granddaughter of two chiropractors Beth has the unique experience of being adjusted since birth and has always sought out care to address her sinue/allergy concerns as well as help her manage anxiety.  She felt the calling to join the field when she and her husband Jon moved to the Nashville area in 2016.  Starting as a front desk team member at a small office in Franklin, TN she began to learn the massive impact that chiropractic care can have on every element of a persons health and wellness.  Her years onstage have given her the unique ability to communicate and teach the fundamental principles and connect with the patient base in an authentic way.  She joined the team at Premier Chiropractic in 2019, following her husband Jon who started with Premier in 2018.  Having worked together for years with Disney, it is truly a pleasure for them to now work side by side leading the team here at Premier Chiropractic.  Outside of work they are die hard puppy parents with two floofs that run their household named Molly and Arthur.  They are true homebodies and are so grateful for the opportunity that Premier has given them to impact lives and have a life they truly love!
Jon Schoenherz
Customer Experience Director, External Marketing Coordinator
Jon grew up in Rancho Cucamonga, CA. Following in his mother's footsteps, he began a career in entertainment, and spent nearly 25 years as a professional singer, actor, and voice over artist. After graduating with a Musical Theatre Degree from Cal State Fullerton, he spent nearly 17 years with the Walt Disney Company – most notably as a member of the Dapper Dans of Disneyland. It was in this role that he cultivated his passion for customer experience, never feeling that guests deserved less than 110%. Oddly enough, Jon knew nothing about the world of Chiropractic, but after moving to the Nashville area in 2016, he dropped off a resume with Premier Chiropractic, and has found much more than a job. He's found a family and a home. His passion for educating has cultivated a relationship with every patient he meets, and has developed a heart for serving and teaching. He officially became a team member in 2018, and was delighted to encourage his wife to join as the Office Manager in 2019. Outside of work they are die hard puppy parents with two floofs that run their household named Molly and Arthur.  They are true homebodies and are so grateful for the opportunity that Premier has given them to impact lives and have a life they truly love!
Certified X-Ray Technician, CXT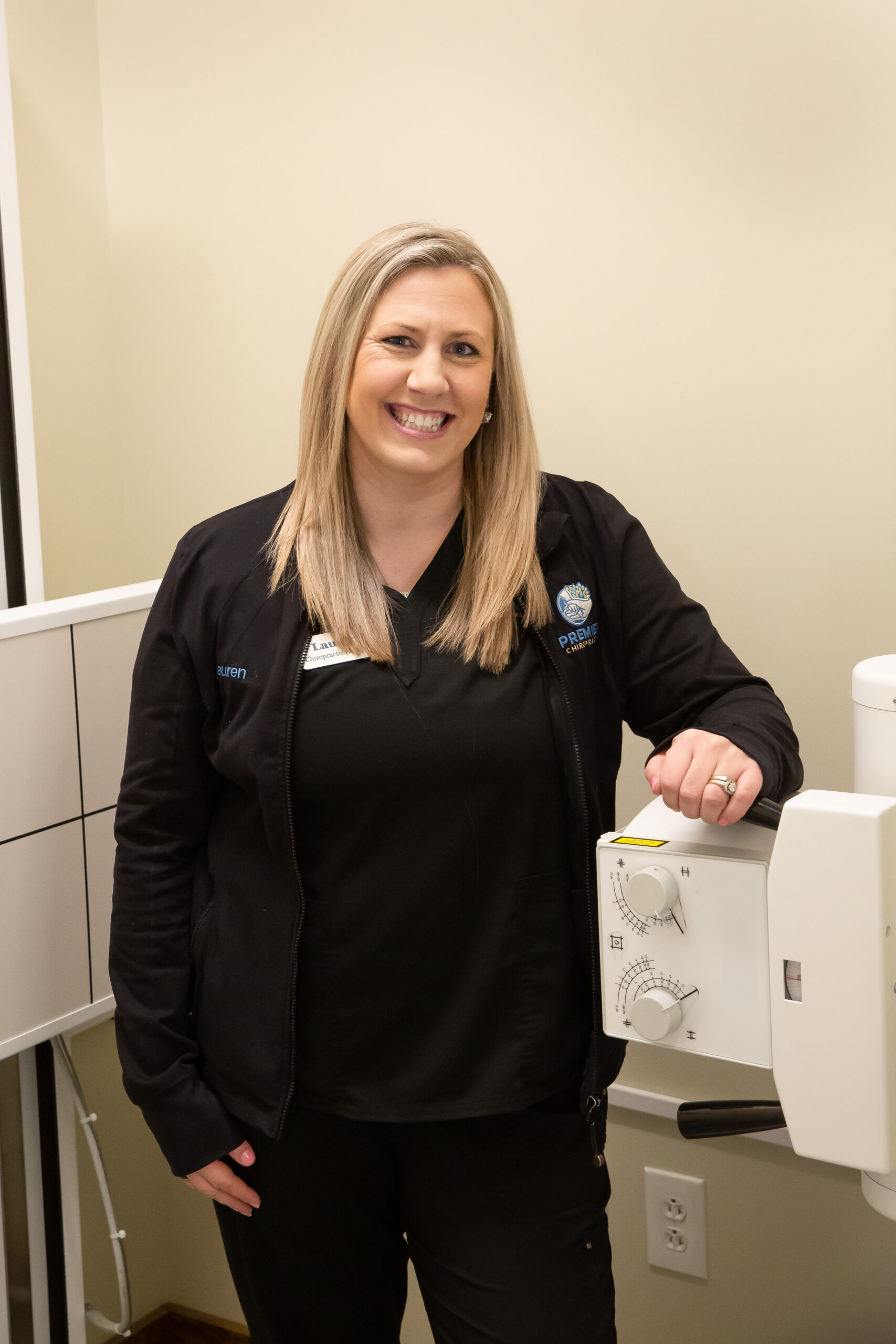 Lauren Fletcher
CXT,  Billing Specialist
Lauren was born and raised on Long Island, New York and relocated to Spring Hill in 2016. She worked as a phlebotomist for 7 years both in NY and TN before she began working at Premier Chiropractic in August of 2018. Over the years she has worked a variety of roles from front desk to eval, but most days you will find Lauren tucked away in the office working on a variety of behind-the-scenes billing items or in the x-ray room as she is the offices Certified X-Ray Technician.
One of Lauren's favorite things about working at Premier is being able to see the progress practice members make throughout their care by comparing the x-rays from when they started care to the x-rays they have after being under care for a year. There is nothing more exciting than marking a comparison set of images and seeing stabilization and regeneration occur in the spine and knowing the positive changes people have seen in their symptoms and the changes occurring in their day-to-day life. She loves the team and Dr's that she works with and enjoys being able to come to work and have the opportunity to help make a difference in her community.
When Lauren is not at work you will see her juggling life at home with 3 kids and a husband. Between cheer practice for her daughter and running around with her toddler and teenage son she is constantly on the go. During her spare time Lauren loves to travel, read and late night craft on her Circuit.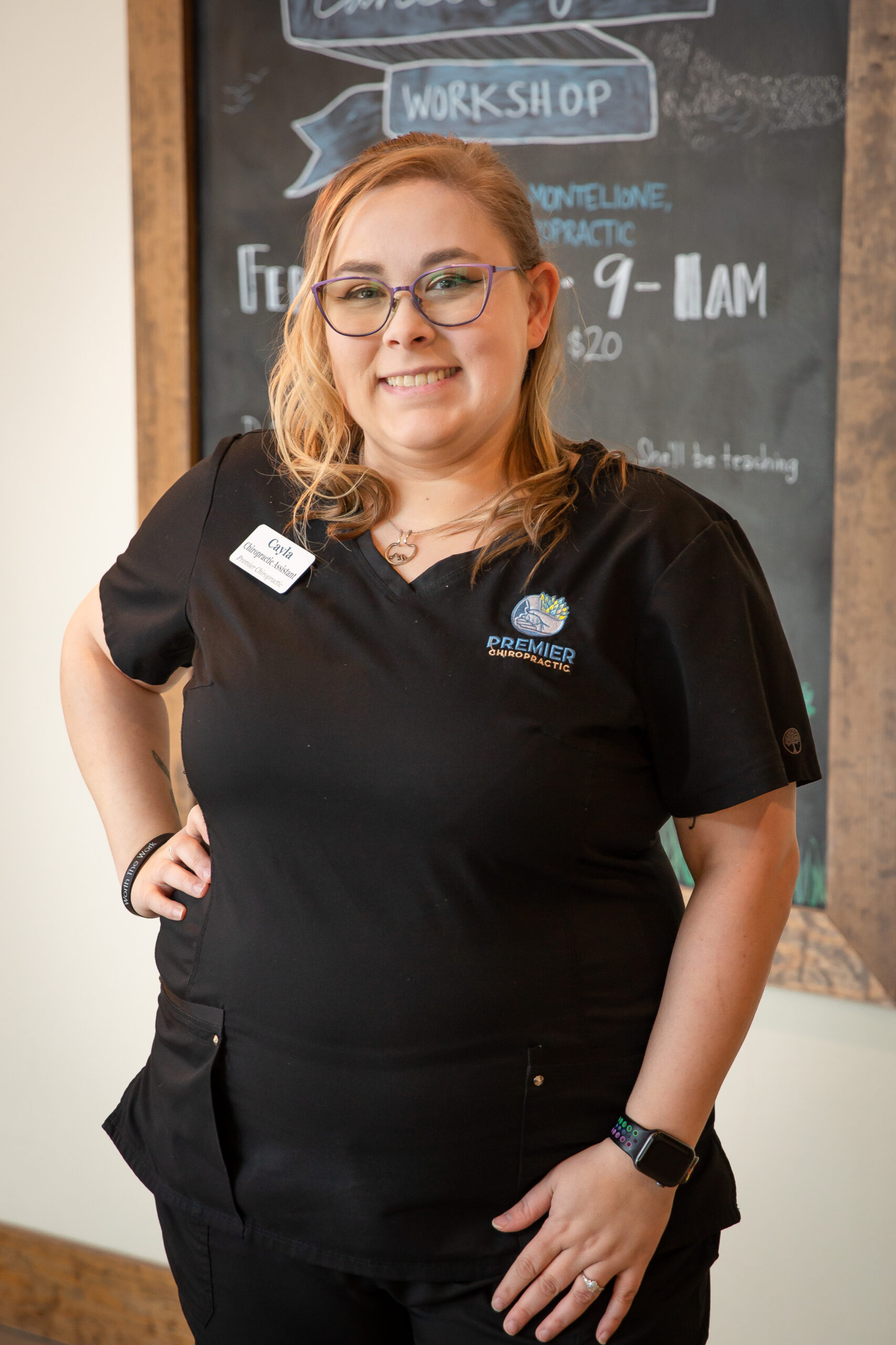 Cayla
Chiropractic Assistant, Internal Marketing Coordinator
Cayla is a native of East Tennessee and moved to Columbia 2020 where she promptly got a job as a front desk team member at Premier. Since starting she has moved through the office to do multiple roles. Sometimes she is at the front desk greeting practice members or in the back preforming evaluations. Her main role is chiropractic assistant, but she is also in charge of internal marketing and social media coordination.
Her favorite part of working at Premier is serving the community. It truly is amazing to see the changes that chiropractic can have in people's lives. Introverted as she is, helping people makes her happy and the best way to do that is to show people that health can be attained through proper care of the body.
Outside of Premier Cayla is a crafting queen. She enjoys spending time making things from crochet hats to glitter tumblers to wood and acrylic pens. Working with her hands helps her relax as well as being an avid reader. Though her cats don't much enjoy her reading and tend to climb all over her books.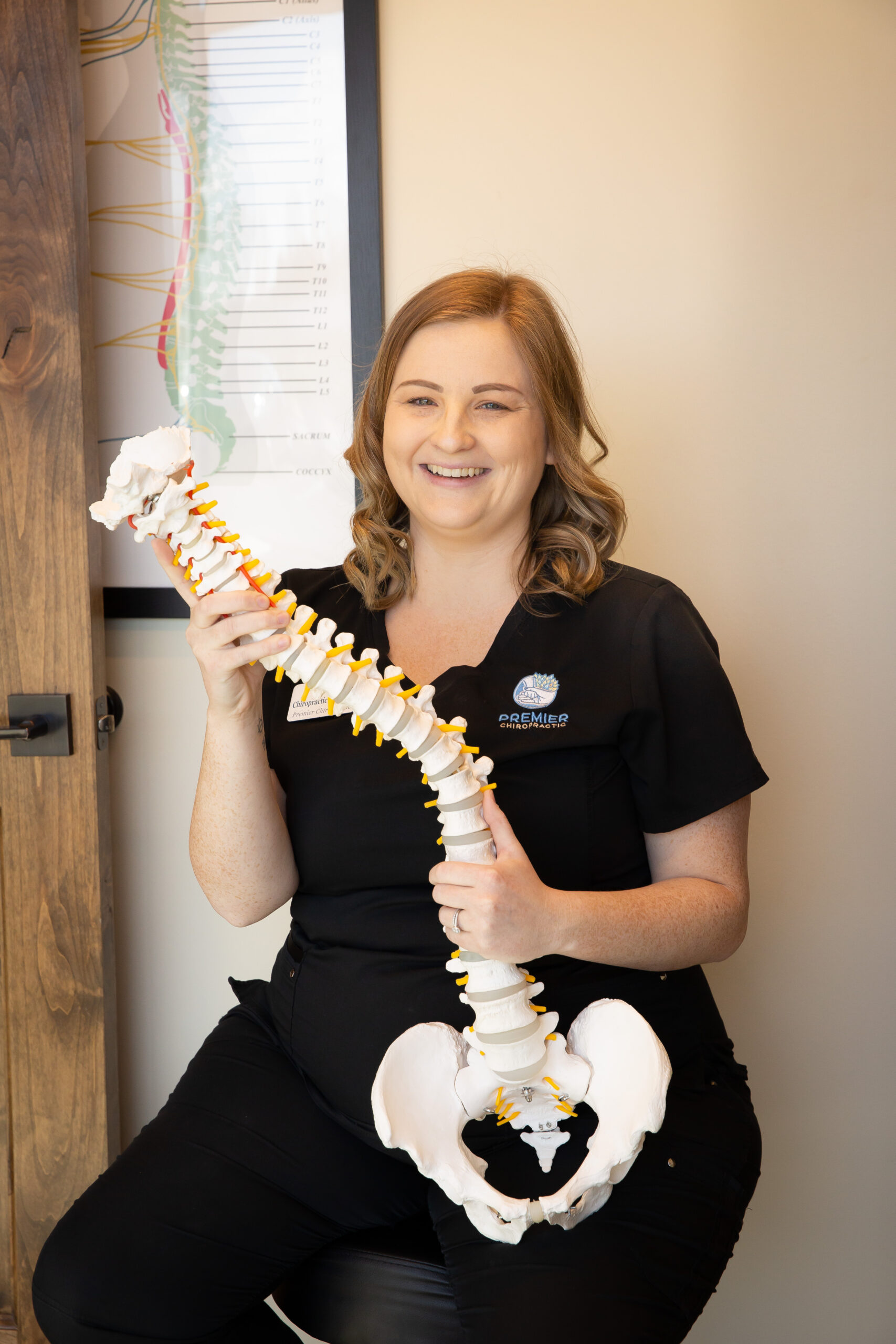 LJ
Chiropractic Assistant, Evaluation Technician
LJ here, which stands for Laura Jean. A true southern girl, but prefer LJ because it's much more reflective of my personality. After spending most of my life in Alabama, I moved to Tennessee in 2016 to help a local church plant in Franklin. I've always loved being with a group of people who encourage each other and make a difference in the lives of those around them. My career transitions from 2016 to 2020, when I started at Premier Chiropractic, have always reflected my heart of serving others. From being an assistant, to working with special needs adults, and ending up at a local company working in customer service and then Human Resources, I've always loved being around people. I had very little knowledge of chiropractic care and the life changing benefits prior to this position, but can't imagine another day without it. My husband and I were so blessed to be able to receive chiropractic care when I started working at Premier in 2020 and haven't been to a doctor for illness or pain ever since! Our bodies have started functioning the way God intended and I love sharing that with our new and current practice members during initial consultations, reassessments, and yearly reviews. Other than serving others, my husband and I love traveling and hope to make our way to the west coast some day to experience more of what the Good Lord has blessed us with.